Paris-headquartered music company Believe generated annual revenues of €760.8 million in 2022.
That revenue figure converts to USD $800 million (at average annual exchange rates as per the IRS).
The company's full-year financial results (its second set of full-year results since floating on the Paris Euronext in 2021) were published on Wednesday, (March 15).
According to Believe, its annual revenues grew €183.6 million, from €577.2 million in 2021, reflecting an increase of 31.8% YoY.
Believe's performance in 2022 marked an acceleration in growth versus the prior year, when the company grew its revenues by €135.8 million (30.7%) YoY, from €441.4 million in 2020.
These FY 2022 results beat the company's own full-year forecast for 2022, which it raised twice last year. The company said in November that it expected its revenues in the 12 months to end of December 2022 to grow by at least 30% (it previously forecast 29%+).
The company's revenues in 2022 surpassed the €750 million milestone for the first time in its history.
Believe breaks down its global operations into two divisions:
(i) DIY distributor TuneCore (referred to as 'Automated Solutions' in its results), as well as
(ii) the performance of its core premium label and artist services operation (referred to as 'Premium Solutions')
The company's 'Premium Solutions' revenues grew 31.6% YoY, from €541.3 million in 2021 to €712.6 million in 2022 (see below).
Believe's revenues from its 'Automated Solutions' grew 34.5% YoY, from €35.8 million in 2021, to €48.2 million in 2022.
---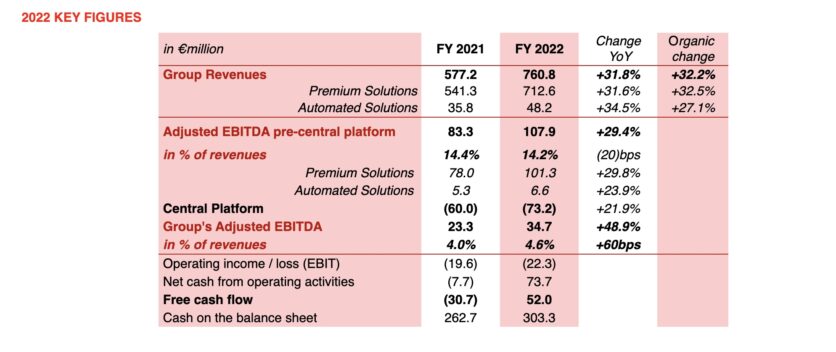 ---
Digging deeper into Believe's full-year results for 2022 reveals that the company's Digital revenues, which represented 92.3% of its overall revenues (compared with 90.9% in 2021) were up 34.7% YoY.
Speaking on the company's earnings call on Wednesday, Believe's Founder and CEO Denis Ladegaillerie, said that the company's "growth in digital music sales is an illustration of two things".
He added: "It's an illustration of our ability to continue gaining market share by attracting new artists" but also of the company's "ability to innovate" using "tools such as Spotify Discovery" and [how to] "best monetize YouTube to drive increased revenues for artists and labels".
Believe says its non-digital revenues increased by 7.6% during the year, mainly driven by revenue growth in merchandising, live and branding activities which the company says offset the decline of physical sales.
The Group's Adjusted EBITDA (earnings before interest, taxes, and depreciation) was €34.7 million in 2022 (representing a margin of 4.6% versus 4.0% in 2021).
The publication of Believe's 2022 results arrives a month after it reported that it surpassed the milestone of €1 billion in digital music sales (DMS) for 2022. Believe says that DMS is the revenue generated from its digital store partners and social media platforms before royalty payment to artists and labels.
The company adds in its earnings announcement that its business model's "appeal to artists and labels was proven in all markets" in 2022 and was "illustrated by the geographical diversity of the large number of artists and labels joining Believe".
Believe reports that the number of artists served directly (presumably via TuneCore) or via labels by the wider Group (via its artist/label services operations) increased by around 200,000 artists to reach the milestone of approximately 1.3 million artists in 2022.
---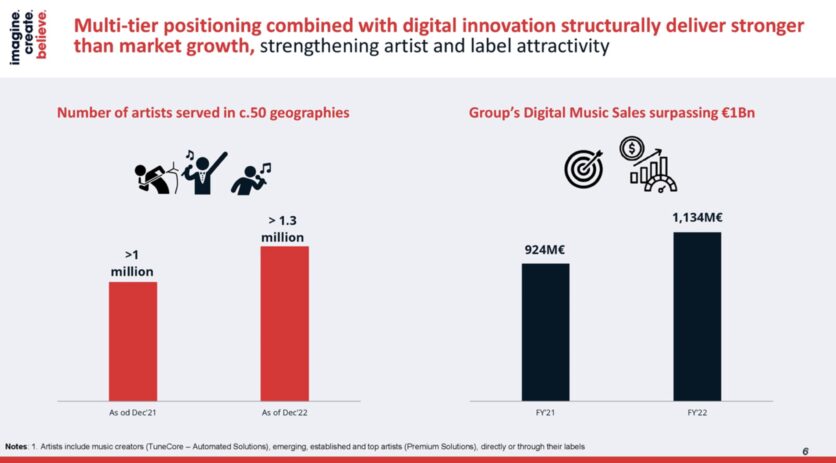 ---
Breaking Believe's results down by region reveals that in 2022, Asia Pacific and Africa combined saw revenue growth of 52.7% to €199.3 million, which represented 26.2% of the group's revenues (versus 22.6% in FY'21).
Believe notes that "market dynamics remained strong throughout the year despite a slowdown in the growth of ad-funded streaming revenues since June 2022 which impacted the activity of the region".
Additionally, Believe says that the expansion of its 'premium services' offering and 'investments' in India-based Think Music and Philippines-based VMAG "enabled strong growth in India and Southeast Asia, while the Group accelerated its development in Greater China during the year".
---

---
In France, Believe's revenues increased by 34% in 2022 to €128.6 million. The market represented 16.9% of the company's revenues.
Believe notes that it "increased its appeal to a wider variety of music genres" in France, thanks to strategic partnerships with Play Two and Jo&Co which, it says, "contributed to accelerating the revenue growth" in 2022.
In the Americas, Believe grew its revenues by 30.7% to €109.2 million in 2022, which represented 14.3% of the company's total revenues.
Believe also says that it benefited from the strength of its business in Brazil.
In Europe (excluding France and Germany) Believe's recorded revenues grew 27.6% to €210.2 million and represented 27.6% of its total revenues in 2022 (versus 28.5% in 2021 reflecting what it says was "decreasing weight" of its Russian business).
Elsewhere in Europe, Believe says that it "remained on a strong growth trajectory in the UK, Southern Europe and Eastern Europe, while the level of activity remained sustained in Italy".
Revenues in the region were affected by lower revenue growth in Turkey (due to a currency effect on the market) and in Russia (that represented around 7.5% of the Group revenue in FY'22).
In Germany, revenues increased by 11.0% YoY to €113.6 million in 2022 and represented 14.9% of Believe's revenues.
"We aim to be the best music company at developing artists and labels in the digital ecosystem. Everyday my belief that Believe is best positioned to succeed becomes stronger."

Denis Ladegaillerie, Believe
Denis Ladegaillerie, Believe's Founder and CEO said: "We ended 2022 strongly delivering above our IPO commitments both operationally and financially for the second year in a row.
"In 2022, as we have done each year since 2005, we did what we said we would do … or better. We grew our market share; we improved profitability; we generated significant cash flow from our operations. Every day the music market becomes more digital and our differentiated positioning and our competitive advantages in the digital world become clearer to our artists and our partners.
Added Ladegaillerie: "The quality of services that our teams provide by leveraging their passion for music, digital expertise and technology solutions contributes to the success of a wide variety of local labels and artists all around the world at all stages of their career.
"In 2023, we will continue our profitable growth strategy: invest in our teams to grow market share, innovate in audience development products for our artists and labels, and further drive operational efficiencies through technology and scale to increase profitability. We aim to be the best music company at developing artists and labels in the digital ecosystem. Everyday my belief that Believe is best positioned to succeed becomes stronger."Music Business Worldwide