The real challenge is for the government to explicitly recognize that without a strong relationship with its private sector, its hopes of transforming the economy into a high-tech one capable of generating more productivity and employment growth are unrealistic. It needs to back this recognition up with concrete measures to support the private sector, including financial-sector liberalization that will help direct more resources to private businesses rather than state-owned ones. Transparency about information and about its policymaking process will help the government a lot more.
As long as the current regime prioritizes central command and control over growth and job creation, it's unclear whether growth can be restored. All signs point to the operation of a financial accelerator in reverse, which although not leading to a catacylismic collapse (see Nick Lardy's points), will ensure difficult economic times ahead (indeed more difficult than indicated by official statistics, as discussed in this post).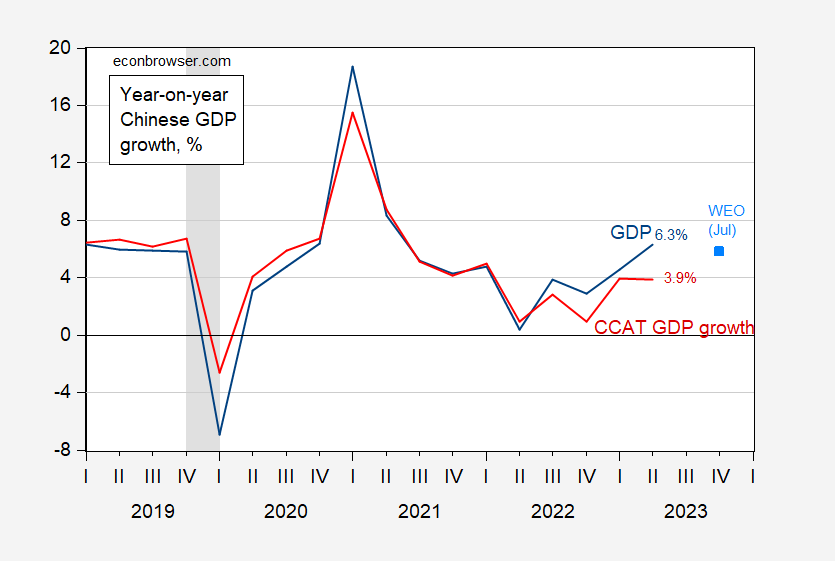 Figure 1: Year-on-Year Chinese GDP growth (blue), and growth implied by China CAT (red), IMF WEO July forecast (sky blue square). ECRI defined peak-to-trough recession dates shaded gray. Source: NBS, personal communication,  IMF WEO July update, ECRI and author's calculations.
Personally, given my observations regarding the current leader's behavior, I am skeptical that a tradeoff in favor of more growth and economic liberalization is in the offing. However, the history of pragmatism in earlier regimes gives one slight hope.