Maybe. From Englander/Hewin at Standard Charter (gated):
The Q3-2022 B-D adjustment added 294,000 NFP jobs. This seems a little high to us, as the QCEW had not showed this many Q3 net job gains from openings less closings other than in 2020 during the initial recovery from COVID. Moreover, total private-sector job gains in Q3-2022 were 232,000 NSA, so the B-D adjustment accounted for more than 100% of private-sector NFP job gains. We note that for H2-2022 as a whole, the B-D adjustment represents 47% of the private-sector NFP job increase. Based on QCEW data, this would be an unusually high share. We cannot preclude that the H2 NFP data is correct, but we think it is – most likely – somewhat overstated. That would mean a decent downward benchmark revision in employment levels when benchmark revisions are implemented at the beginning of 2024.
As noted by other observers, including those at the Philadelphia Fed, and those who put substantial weight on the household survey, there seems to be evidence that the CES estimate of NFP is off. However, it is not clear that all alternative estimates indicate a slowdown in Q2.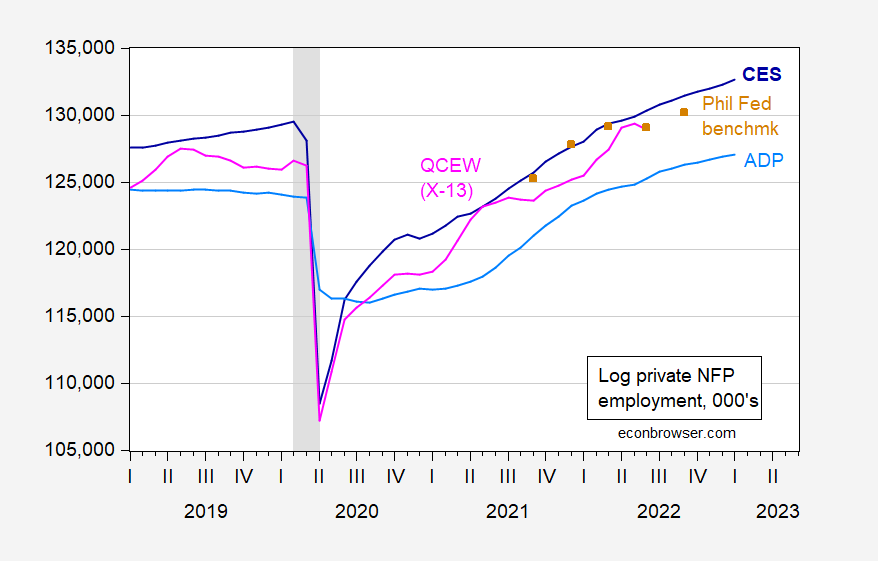 Figure 1: Private nonfarm payroll employment from January 2023 CES release incorporating benchmark revisions (blue), ADP (sky blue), QCEW private covered workers, seasonally adjusted using log transformed Census X-13 (pink), Philadelphia Fed preliminary benchmark minus reported government employment (tan squares), all in 000's, s.a.. Source: BLS (various) and ADP via FRED, BLS QCEW, Philadelphia Fed via FRED, and author's calculations.
While both the QCEW series and Philadelphia Fed preliminary benchmark through September show a slowdown in Q2, the ADP (which relies upon a completely different data set, and not a survey) shows no slowdown. Since the QCEW is a census, not a survey, it typically has greater precision; however, it too is subject to revisions as new data comes in. So we'll see on February 22.
In any case, even if a slowdown, I don't think it would count as a recession in the NBER definition.