Weekly indicators from Lewis-Mertens-Stock (NY Fed) Weekly Economic Indicators, and Baumeister, Leiva-Leon and Sims WECI  and Woloszko (OECD) Weekly Tracker through 12/24, released today.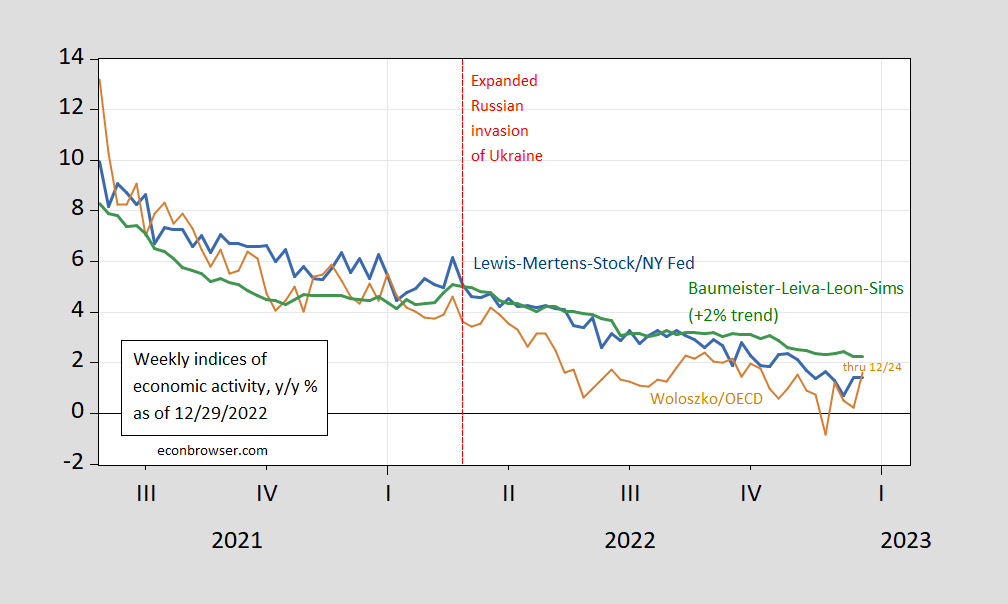 Figure 1: Lewis-Mertens-Stock Weekly Economic Index (blue), OECD Weekly Tracker (tan), Baumeister-Leiva-Leon-Sims Weekly Economic Conditions Index for US plus 2% trend (green). Source: NY Fed via FRED, OECD, WECI, and author's calculations.
Rebound in the Weekly Tracker, which had dipped into negative for the week ending 11/26, now matching the WEI. The WEI reading for the week ending 12/24 of 1.4% is interpretable as a y/y quarter growth of 1.4% if the 1.4% reading were to persist for an entire quarter. The OECD Weekly Tracker reading of 1.6% is interpretable as a y/y growth rate of 1.6% for year ending 12/24. The Baumeister et al. reading of 0.25% is interpreted as a 0.25% growth rate in excess of long term trend growth rate. Average growth of US GDP over the 2000-19 period is about 2%, so this implies a 2.25% growth rate for the year ending 12/24.
bv