"The Future of the International Monetary System," a talk by Mark Sobel, former Treasury Deputy Assistant Secretary, Executive Director at the IMF, current US Chair  next Tuesday (4/4), at H.F. DeLuca Forum ("Discovery Building"), 330 N. Orchard Street. Co-sponsored by the Center for European Studies and the La Follette School of Public Affairs.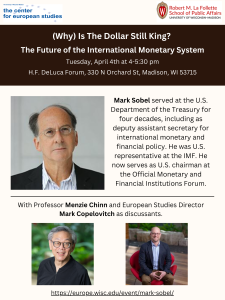 Why is the dollar the world's leading international currency? To what extent are the Euro and Renminbi potential challengers to the dollar? Have the sanctions placed on Russia by the US and its allies reinforced or threatened the dollar's dominance in global finance? What are the greatest threats to dollar hegemony in the years ahead? Should the Federal Reserve take international developments into account when formulating monetary policy? Drawing on his decades of experience as a senior official at the US Treasury, G7, G20, and International Monetary Fund, Mark Sobel will discuss these crucial issues about global finance and the international monetary system. Mark Copelovitch, Director of European Studies, and Menzie Chinn, Professor of Public Affairs and Economics, will serve as discussants.
One aspect of dollar dominance is the use of the dollar as a reserve currency.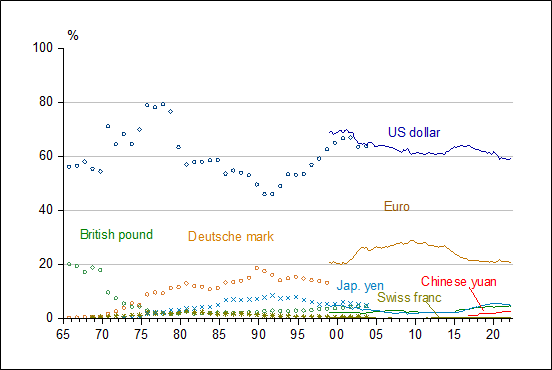 Figure 1: Share of reserves, from IMF, COFER.
A previous exchange with Sobel (and Bob Dohner) on the dollar (back in 2020) here.
Mark Sobel is also presenting in the LaFollette Seminar "The International Monetary Fund – Current Challenges" (Wednesday, 12:30-1:45, Rm 1328 Sterling Hall). The topic includes
critiques of the IMF from the left and right, thoughts on the IMF's global financing role, the governance structure and resource adequacy, low-income country debt, Ukraine, and the climate.