The pressure is on agencies to craft regulations in time to buttress the president's climate agenda against GOP opposition and legal challenges.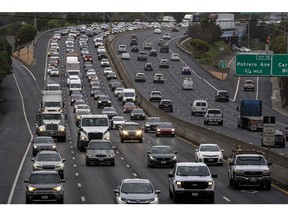 Article content
(Bloomberg) — It's a pivotal moment for President Joe Biden's climate agenda as he reaches the halfway point in his first term, with his administration planning to impose major climate policies touching everything from the cars Americans drive to the electricity they use.
Article content
Biden campaigned on promises to combat climate change, accelerate renewable fuels and decarbonize the nation's power grids by 2035. As president, he's pledged the US will at least halve its greenhouse gas emissions by the end of the decade. The sweeping climate law known as the Inflation Reduction Act is set to massively help the US reach that goal, policy analysts say, but success also depends on a host of other policies to force emission cuts and spur efficiency. 
Article content
With the IRA's enactment, action now shifts from Congress to federal agencies. Scores of new measures are needed to implement the law's climate provisions, but officials are also racing to finalize separate, long-planned regulations around issues as disparate as emissions from power plants, vehicle pollution and business disclosures of climate risks. 
Article content
"Now it's go time," said Trevor Higgins, an acting senior vice president at the Center for American Progress. "Whether it's the rules for vehicles or soot or smog, all of them have to get done."
A combination of political and legal pressures makes 2023 a critical year for the administration's environmental agenda. Although Biden has at least two years left in the White House to try to fulfill his climate commitments, major measures must be proposed and finalized soon to better ensure they survive legal challenges as well as anticipated Republican opposition in Congress. 
Regulations finalized in the final six months of an administration are particularly vulnerable to being overturned through a simple majority vote in the House and Senate, under the Congressional Review Act. And if a Republican wins the White House in two years, the next administration may opt not to vigorously defend Biden-era rules in court. That puts a premium on earlier action. 
Article content
Activists are urging the administration to hurry — especially in writing a raft of regulations targeting greenhouse gas emissions and other pollution from power plants. 
"We don't want to leave anything to chance," said Charles Harper, a power sector policy expert at the advocacy group Evergreen Action. "The climate crisis is so urgent and these power sector rules are so vital to President Biden's agenda."
Work spans the executive branch, as Biden seeks to marshal a "whole-of-government" response to the climate crisis. At the Department of Energy, work is underway on energy efficiency standards that help cut power demand and related emissions. The Interior Department is honing its plan to stifle venting and flaring of natural gas from wells on public land. And the Securities and Exchange Commission has advanced a proposal to require public companies to disclose how they are managing climate-related risks. 
Article content
The president is also under pressure to use special executive powers to designate marine sanctuaries and protect other lands, preventing an array of activity on them, including future oil and gas development. On his seventh day in office, Biden signed an executive order promising to conserve at least 30% of US lands and waters by the end of the decade. But the administration "needs to act with more urgency to actually keep those commitments in sight," said Jenny Rowland-Shea, director for public lands at the Center for American Progress.
The biggest challenge may be in finishing rules that haven't yet been proposed — including measures limiting carbon dioxide emissions from power plants and vehicles. "They're already running up against the clock for those," said Amit Narang, a regulatory expert with Public Citizen. 
Article content
The administration is also up against a regulatory process that is not designed for speed, with requirements for publishing proposed rules, subjecting them to public comment and other other steps that can span months, if not longer. 
Officials held off proposing the power plant regulation while Congress developed the Inflation Reduction Act and as the Supreme Court scrutinized a related measure, since its ruling can help them divine the most legally durable approach.
And though the Environmental Protection Agency imposed new tailpipe emission standards on cars and light trucks through model year 2026, it hasn't yet advanced the next tranche of requirements governing vehicles produced later this decade. The transportation sector is the largest source of US greenhouse gas emissions today. 
Article content
Stifling methane is a major priority in the climate fight because it's a highly potent greenhouse gas. But the administration has moved slowly on advancing an EPA plan to clamp down on methane emissions from oil and gas wells. The EPA outlined an initial blueprint on methane in 2021, then only fleshed it out with a supplemental proposal released during a UN climate summit last November, setting the stage for possible finalization this year. By March, the agency also is seeking to propose its plan for assessing new fees of at least $900 per ton on methane released from certain oil and gas operations, under a mandate from the Inflation Reduction Act.
Republicans in charge of the House, including Speaker Kevin McCarthy of California, have also vowed tough oversight of the Biden administration's energy and environmental policies — with hearings grilling agency officials and other scrutiny that could complicate rulemaking. 
Article content
Another challenge: simply recovering from staffing and operations cuts under the Trump administration. Agencies that develop environmental rules "had been decimated in terms of human capital; some of them had stopped collecting the data that you need to actually do the regulatory work," White House National Climate Advisor Ali Zaidi said on the sidelines of the UN climate summit in November. "We've been doing the work of rebuilding that." 
The Inflation Reduction Act steers more resources and staffing to federal agencies, though hiring delays could blunt some of the benefits. 
The law also devotes hundreds of billions of dollars to clean energy and climate programs that unlock the potential for bigger emission cuts — and more stringent regulations to force the cleanup. It's a double-edged sword for agencies now scrambling to establish programs created by the law even as they write stiffer rules enabled by it.
With the IRA, "there's a lot of new funding going into EPA that is a blessing and a curse," said Evergreen Action's Harper. "They have a lot of great new programs to take on pollution around the country, but a lot of work the agency needs to take to make sure that funding is implemented effectively and equitably."