Oil and gas majors ramped up their investment in recent years, but it was still a tiny fraction of all the money flowing into the energy transition.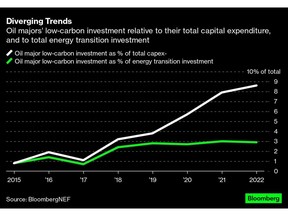 Article content
(Bloomberg) — The world's five biggest publicly listed oil and gas companies posted just under $200 billion in total profits last year. Faced with three strategic possibilities for how to use their cash piles — extract oil and gas apace, move their businesses into renewable power and energy transition assets or return money to shareholders — the supermajors have largely sprung for the third option in recent weeks.
Article content
In other words, Exxon Mobil Corp., Chevron Corp., BP Plc, Shell Plc and TotalEnergies SE "choose cash over climate," as Bloomberg reporter Kevin Crowley wrote recently. Shareholders seem to support this position: Resolutions that would have forced the companies to align with Paris Agreement climate targets failed. BP and Shell have also pulled back on their strategies to cut fossil fuel production. (One Shell power trader quit in response to the pivot.) 
Article content
This may seem like a major change in capital allocation for the energy transition. But it says more about company strategy than about investment at the trillion-dollar scale. To put it another way: Oil majors retreating from clean-energy investment means more to oil majors than it means to the energy transition. 
Article content
From 2015 through 2022, oil and gas majors — not just the five supermajors above but also companies like Repsol SA in Spain and Petronas in Malaysia — invested a combined $113 billion in low-carbon assets and technologies. Of that, more than half came in 2021 and 2022 alone. 
It's a reasonable sum, certainly, but it needs context to understand the role the companies played in decarbonization. Over the same period of 2015 through 2022, energy-transition investment from all companies and sectors came to more than $4.8 trillion. The oil majors' low-carbon investment has obviously increased in absolute terms, but two other metrics make its relative importance clearer. 
The first is the share of the companies' capital expenditure that has gone to clean energy. In 2015, oil majors deployed 0.8% of their capex in low-carbon activities. Last year, that figure had increased more than tenfold, with low-carbon investments reaching 8.6% of total capex. 
Article content
However, this trend did not keep pace with the total growth in energy-transition investment. In 2015, oil majors' $3.2 billion of low-carbon capex was less than 1% of all investment. Last year, their $32.3 billion was 10 times higher in absolute terms, but only three-and-a-half times higher as a share of the total. In fact, after jumping from 0.7% of energy-transition investment in 2017 to 2.5% in 2018, the companies' low-carbon activities have been range-bound. Their contribution peaked at 3% in 2021 and ticked down slightly to 2.9% last year. 
Every $1 billion invested in the energy transition is certainly welcome, but oil major dollars have not, to date, moved the needle much. Clean-energy investment trends would look largely the same if oil majors were not investing at all. And there is no shortage of capital at the moment —  according to the International Energy Agency , more has been invested in clean energy than fossil fuels every year since 2016.
Article content
The oil majors' appetite for investing in the energy transition has come and gone before (BP's "Beyond Petroleum" campaign dates back to 2000, after all). So if we assume that another investment cycle could come again — not just the continuance of a shareholder preference for returned cash — we should also ask what form that might take.
Perhaps it will not be in renewable power generation, particularly not with their departure now opening up space for new entrants. Instead, it could be in sectors where there is a greater affinity with oil and gas firms' existing capital and expertise, such as sustainable aviation fuels, hydrogen or geologic storage of carbon dioxide. For the moment, though, the oil and gas majors' pullback has a contained impact. It may remove a percent or two of total investment in the energy transition, in a world where other investors abound.
Nat Bullard is a senior contributor to BloombergNEF and writes the Sparklines column for Bloomberg Green. He advises early-stage climate technology companies and climate investors.