As fire-ravaged Athens braces for near-record temperatures this week, a longer-term ecological catastrophe threatens the cradle of western civilization: the Greek capital risks turning into a desert.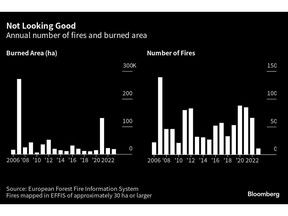 Article content
(Bloomberg) — As fire-ravaged Athens braces for near-record temperatures this week, a longer-term ecological catastrophe threatens the cradle of western civilization: the Greek capital risks turning into a desert.
Article content
Wildfires raged last week across the greater Attica region that surrounds Athens, destroying homes and forcing residents and tourists to seek the safety of nearby beaches. As the climate warms, extreme heat and fires are becoming more frequent, depriving the olive groves and pine forests that encircle the capital of the time they need to rejuvenate.
Article content
"If there is a new fire this year, or next year, that for example burns the Parnitha mountain, then desertification will immediately appear," said Efthymios Lekkas, professor of dynamic tectonic applied geology and disaster management at the National Kapodistrian University of Athens. 
Climate change, triggered by fossil fuel emissions, is boosting the intensity and duration of summer heat waves across the Northern Hemisphere, raising concerns that swathes of the planet may soon become uninhabitable. While the southward creep of the Sahara has long spelled ecological disaster for countries like Sudan and Chad, the desert's northern edge is now threatening Europe. 
Article content
Greece is among the countries in southern and southeastern Europe — including Spain, Portugal, Italy, Bulgaria and Romania — that are vulnerable to desertification as temperatures increase and rainfall dwindles, fueling wildfires. That trend is forecast to continue as greenhouse gas emissions keep warming the planet.
The impact is more extreme in the Mediterranean, an already semi-arid region that's warming 20% faster than the global average, according to the UN Environment Programme. Greece is particularly vulnerable to climate change, with rainfall declining across the country and rising seas increasing the levels of salt on its soil, a phenomenon that accelerates desertification.
Two major wildfires broke out last week to the southeast and northwest of Athens, while a third hit an area 80 kilometers (50 miles) west of the capital. The fire in Devenoxoria alone destroyed over 9,500 hectares, burning trees and homes, according to the National Observatory of Athens. 
Article content
Wildfires have been a feature across the region since the 1980s, but climate change is turbo-charging the threat they pose, according to Kimon Hadjibiros, emeritus professor at the National Technical University of Athens and a specialist in ecological issues and environmental policy.
In 2021, wildfires in Attica, in the southern Peloponnese region and on the island of Evia followed a heat wave with temperatures reaching as high as 46C, while in 2018 a fire near to the capital left more than 100 people dead.
This week, the mercury is expected to climb even higher. Highs for the Greek mainland are forecast to reach 47C (117F) by Wednesday. That would match the country's all time high set in Athens in 1977, and potentially test the European record of 48.8C set on the Italian island of Sicily two years ago. 
Article content
The government is appealing to other European leaders to send more jets and fireman to fight further blazes.
"The hard times are not over yet," Prime Minister Kyriakos Mitsotakis said Thursday. 
Longer term, the Greek premier is seeking to reallocate resources for reforestation and preventive measures in Attica. 
Over a third of Greece's territory is subject to high desertification risk, according to the Ministry of Agriculture's action plan on desertification. While intensive agriculture is among the main contributors, higher temperatures and lower rainfall are accelerating soil erosion.
In the short term, university professor Hadjibiros said Greece should look at replacing pine trees near existing residential neighborhoods with less flammable alternatives. Further out, climate change must be addressed by substituting fossil fuels with wind and solar energy, he said.
"What is worrying is the frequency and intensity of the fires linked to meteorological phenomena such as heat waves," Hadjibiros said. "It means that year after year we'll have worse and worse phenomena until areas like Attica will desertify."
—With assistance from Eamon Akil Farhat.