I was asked about my guess for the recession's start. I said consensus was for 2nd or 3rd quarter this year, about 6 months from now. Then I wondered a bit. According to Miller (2019) (discussion here), the highest AUROC at 6 month horizon is the 5 year-Fed Funds rate spread. What does this spread indicate?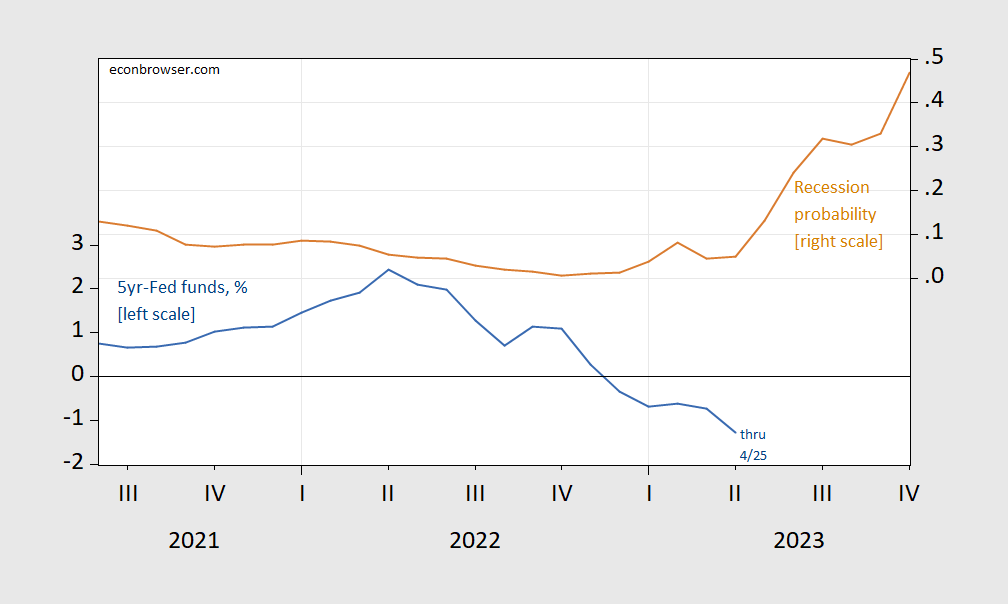 Figure 1: Five year Treasury-Fed funds spread, % (blue, left scale), and estimated probability of recession 6 months ahead (tan, right scale). Source: Federal Reserve via FRED, and author's calculations.
So, for October 2023, the probability is about 60% using a probit model (pseudo-R2 = 0.16).
What about in the next few months, including Q1 and Q2? The Q1 advance will be out tomorrow; GDPNow for Q1 as of today is 1.1% q/q SAAR. S&P Global Market Insights (nee Macroeconomic Advisers) tracking as of today is at 1% and 0% for Q1 and Q2 respectively. Of course, as has been thoroughly discussed, NBER does not make a determination regarding business cycle dates on the basis of GDP alone (CEA (2022); Frankel (2022); discussion of CBO (2022); post).
The recent (April) WSJ survey places the probability of a recession within the next 12 months at 61%, not far from what a plain vanilla probit on 3m10s term spread implies.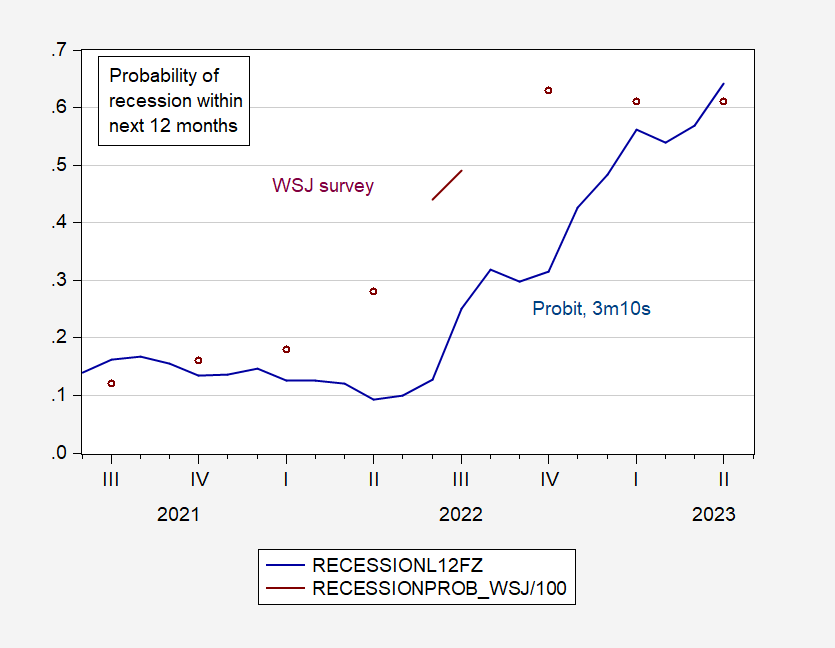 Figure 2: Estimated probability of recession within 12 months ahead based on 10yr-3mo spread (blue), and median from WSJ surveys. Source: WSJ surveys, author's calculations.
Of course, the subjective probability from the WSJ survey has been at that level since October of 2022. So, perhaps Q4 is not a bad guess.