As MBW reported yesterday, the total number of on-demand audio streams in the US last year grew handsomely – up 12.1% to 1.1 trillion.
According to figures revealed in Luminate's end-of-year report, this volume of streams also saw a year-on-year acceleration in growth from 2021 (total streams were up by 121.8bn YoY in 2022, bigger than the 111.0bn rise we saw in 2021 – see below).
---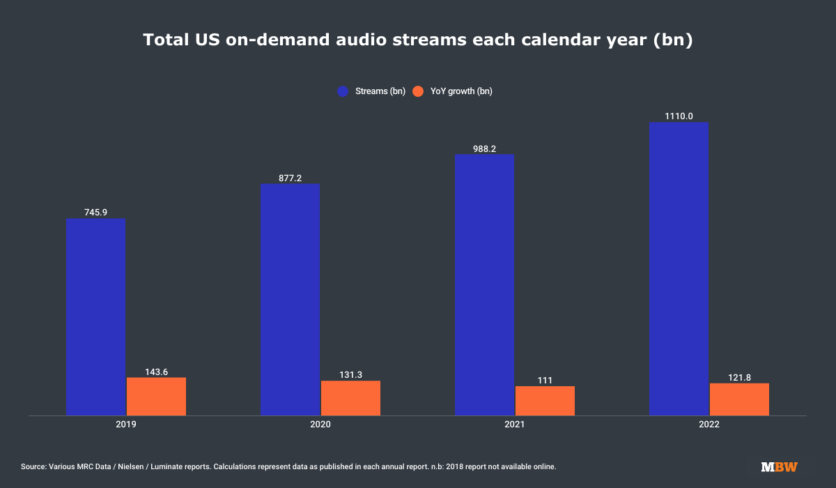 ---
Digging further into Luminate's numbers, though, confirms that a long-running trend in the modern music business became even more pronounced in 2022: The Top 10 biggest hits in the US each year are becoming less popular.
MBW's analysis of Luminate's latest figures reveals that the Top 10 audio streaming hits in the US in 2022 cumulatively racked up 4.723 billion plays on on-demand services (Spotify, YouTube Music, Apple Music, Amazon Music etc.) in 2022.
That was down on the 5.274 billion streams the equivalent Top 10 shared in 2021, the 5.967 billion the equivalent Top 10 shared in 2020, the 6.218 billion the equivalent Top 10 shared in 2019… and even the 4.91 billion the Top 10 shared five years prior in 2017.
The fact that the Top 10 biggest audio streaming hits in the US last year generated fewer cumulative streams than the equivalent year – alongside the fact that the total number of audio streaming plays grew in the market – can only mean one thing: The combined market share of the US's biggest ten hits fell again.
According to MBW's calculations, the US's Top 10 audio streaming hits, combined, were cumulatively responsible for less than 0.5% of all on-demand audio plays in the US annually.
Or to put it another way – as we have in the headline to this story – fewer than one in every 200 plays on audio streaming services in the US last year was of one of 2022's Top 10 tracks.
In fact, approximately close to one in every 250 plays in the US last year was of a Top 10 track.
Back in 2017, just five years prior, more than one in every 100 audio streams (1.23%) was of a Top 10 track.
---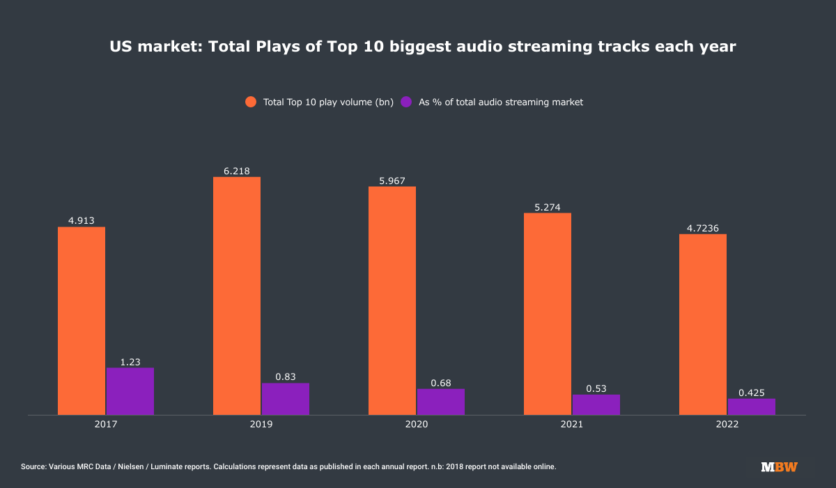 ---
The biggest audio streaming hit in the US in 2022, according to Luminate, was Harry Styles' As It Was (released via Columbia Records), with 609.7 million plays in the year.
That performance was slightly lower than the annual stream count of 2021's biggest audio streaming hit (Dua Lipa, Levitating – 627m ).
Neither As It Was nor Levitating could match the calendar-year popularity of 2020's biggest US audio streaming hit (Roddy Ricch's The Box – 920.4m plays) or 2018's biggest hit (Drake, God's Plan – 917.9m).
Only one hit has surpassed the 1 billion on-demand annual audio plays mark in the US in recent years, according to Luminate data: Lil Nas X's Old Town Road in 2019 (see below).
---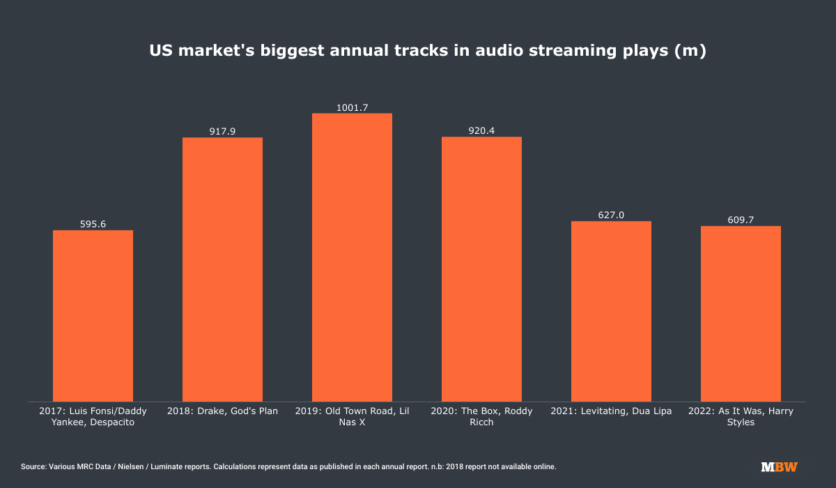 ---
According to Luminate's year-end report, the Top 10 most popular tracks on audio streaming on-demand services in the US in 2022 were:
Harry Styles, As It Was
Glass Animals, Heat Waves
Future feat. Drake & Tems, Wait For U
Bad Bunny & Chencho Corleone, Me Porto Bonito
Kodak Black, Super Gremlin
Bad Bunny, Tito Me Pregunto
Jack Harlow, First Class
Encanto Cast, We Don't Talk About Bruno
Steve Lacy, Bad Habit
Zach Bryan, Something in the Orange
---
As mentioned, the Top 10 hits of 2022 on audio streaming formats were responsible for 0.425% of all audio streams in the US last year, according to our analysis of Luminate's figures.
That market share (0.425%) was itself around half the size of the market share that the equivalent Top 10 tracks held in 2019 (0.83%) and around a third of the size of the market share the Top 10 claimed in 2017 (1.23%).
You probably don't need MBW to tell you what's driving this downward trend for 'megahits' in the States, but we'll remind you anyway. It's largely a combination of the following three factors:
A rise in catalog listening vs. 'frontline' music listening;
A rise in listening of 'non-superstar' artists plus artists from outside the US – potentially accelerated by the lessening power of mainstream media 'gatekeepers' to push a narrow field of stars; and
A rise in the sheer amount of music being released, and listened to.
In MBW's '5 Numbers That Will Come To Define 2023' article last week,  we defined this trend as the growing "atomization" of listening – and therefore the distribution of streaming royalty revenues – in the United States.
Within that article, we referenced a confirmed stat from Warner Music Group: In the firm's FY 2012, its Top 5 superstars generated 15% of its recorded music revenues; by FY 2022, says WMG, that percentage figure had fallen to 5%.
Music Business Worldwide